Plan C Day 1 – Previous Post – Next Post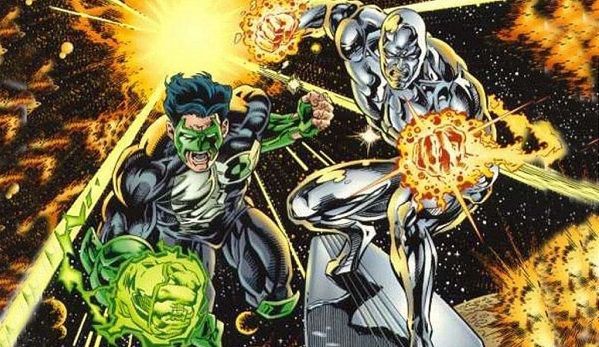 I like crossovers. Silver Surfer is Marvel and the Kyle Rayner Green Lantern is DC.
Plan C Day 18
It's amazing what the difference a wind makes. (Yesterday there was a breeze – today little.) The ride over the Burrard Bridge was toxic with car fumes and it was hot. And I wonder why environment and commerce are not better connected. I am thinking a lot of work is needed to add trees to cities to help take the pollution out and dammit it looks and feels nicer.
Isn't that worth the money?
Speaking of mysteries, I was cycling down a bike lane that connects York Street to the mini park that gives me access to Burrard Bridge. A police officer was in hiding with a ticket book. Are they finally enforcing helmets? I didn't have time to stop and ask.
And as for diet. Well, I cooked a lot of meat last night at home and had the fans on. The vegetarians don't come home until Saturday AM where all the olfactory evidence will be gone. Check out a new article. Vancouver Farmers Markets.