Announcement Post – Day 1 – Previous Post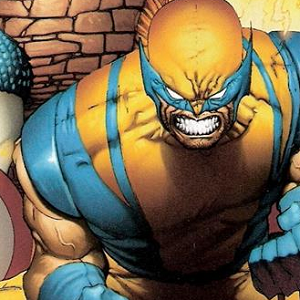 All I want to do is this ride on a day like today. Kits Beach — Spanish Banks. Visit and click.
Without being any more unpleasant that I already am, I thought these two audio clips would encapsulate my feelings toward the outcome of this 15 week diet-fitness extravaganza.
From A Fish Called Wanda
From Black Adder
So … why the negative response?
I'll let you decide. Brace yourself for facts and figures.
Let's start with how much work I did over the 92 days.

But you're wanting to know "the number".
10.7 pounds.
I know, right?
Here's the chart. The figures are pounds and inches. The % Body Fat is courtesy of the gym's scale that somehow measures this through bare feet on the metal plate of the scale.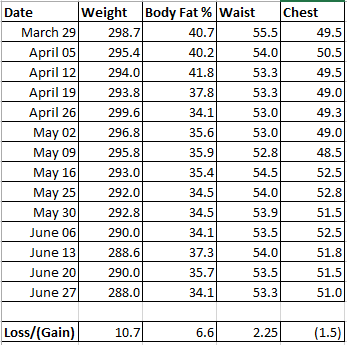 For you graph people, this is what it looks like.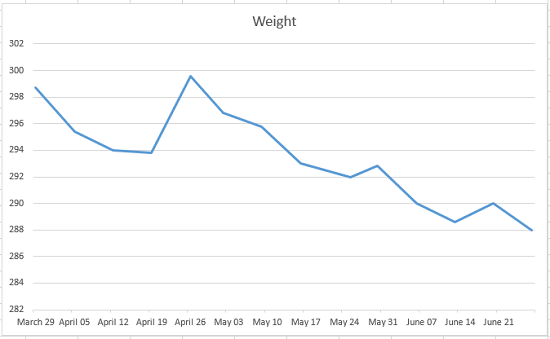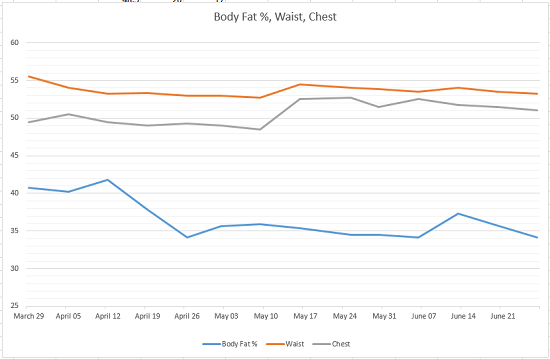 How bad were people's guesses? Bad.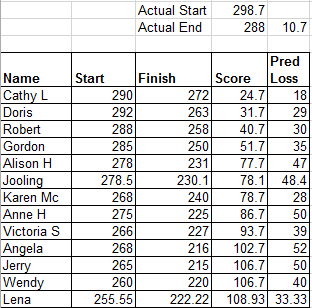 Cathy of Edmonton wins the chocolate.
Honestly that was a lot of work for limited effort. I'm keen to have people's interpretation. The % Body Fat drop explains my droopy pants but the real question is "Where do I need to be?" According to insane ideal weight charts I'm supposed to be 169 to 189 pounds. Uh huh.
I spoke with Victoria the Trainer and we set a target of 250 pounds, assuming I keep at the gym the way I am.
So 38 pounds to go. There will be work over the summer and I'm going to ponder Mutant Diet Deux for September. Maybe I'll only eat French things.
I was going to put up before and after pictures, but when they are sized down to this screen, the difference is, sadly, not good enough for publication and, frankly, I've put myself out there enough. However, this one I'll share.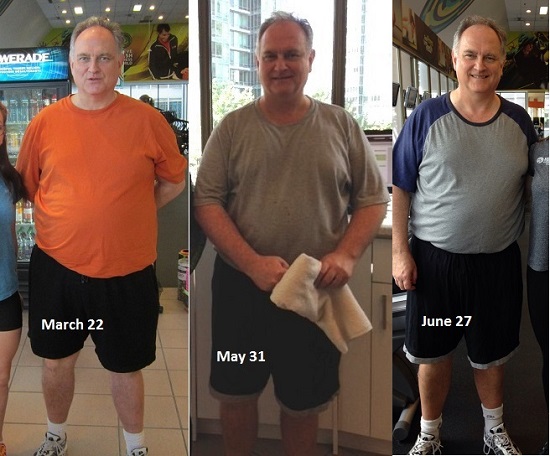 Have a great summer.